Ireland's # 1 Dating Coach
Ireland's # 1 Dating Coach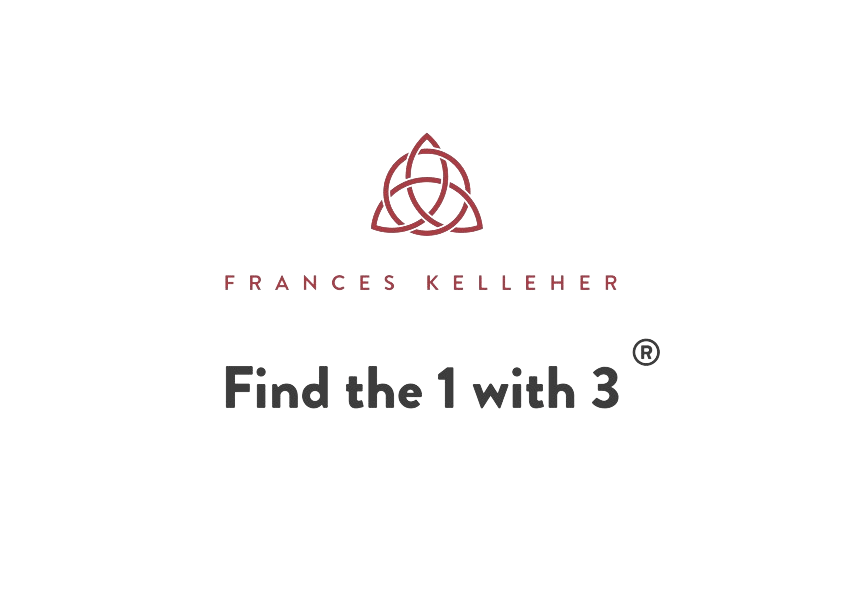 My name is Frances Kelleher & I am a Dating Coach. Like you I have loved and lost. My life's path has allowed me to discover many insights, skills & experiences of how, not just to find the love of your life, but how to live the love life you want. I ask thought provoking questions & listen with an open, kind & non judgmental heart.
Read my articles and listen to my radio interviews here!































All you want is the one right man. So why is it happening for everyone else but you?
You dream of finding him, of feeling less lonely. But right now, you're probably just exhausted by the search that never ends.
You've tried online dating, blind dates setup by friends, even going it alone but nothing works for you.
Hey, I'm Frances, a dating coach and writer consumed by a perpetually burning passion to help you find the man of your dreams.
I'm here to help you become more confident and take control of your destiny, so you finally start living the life you deserve.
You want to have a circle of friends to socialise with.
You need to meet better single men.
You want to know how to talk to the men you are attracted to.
I can show you all of that, both online and in the real world.
People call me the love doctor. I believe everyone can find love – not just the lucky or special.
I know because I married the man of my dreams and I am none of these things. If I can do it so can you. It is a natural law of the universe everyone has access to.
You can be part of the greatest force on earth, which is to love and be loved. You can live the best life that you know you were put on this earth to live.
You don't have to wait. You can make it happen and I'm going to show you how.
Would you like me to provide dating advice for you?